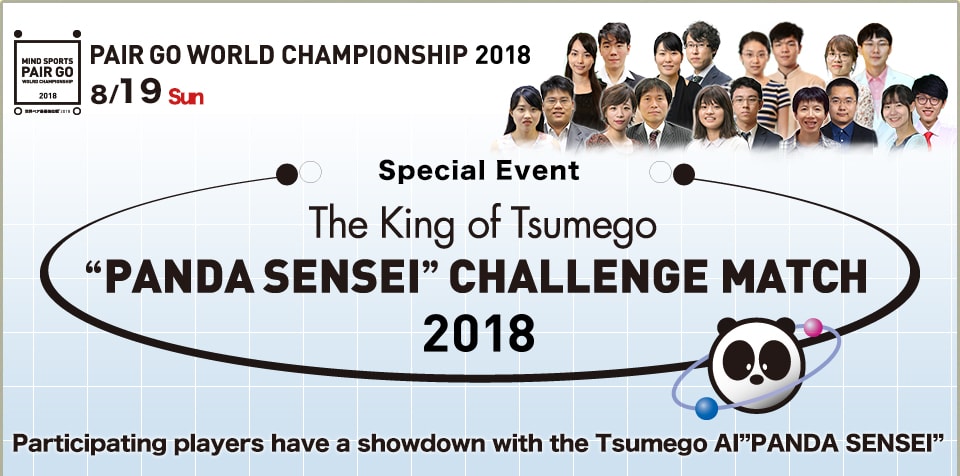 Tournament details
The nine pairs from four countries and territories taking part in the Pair Go World Championship 2018, will compete in speed and accuracy in solving five tsumego problems. On top of that, pairs that solve problems faster than the world's top tsumego AI, the King of Tsumego, "PANDA SENSEI", will receive PANDA SENSEI Prizes.
Playing rules
Three high-level problems and two super-high level problems will be presented. For high-level problems, the time limit is seven minutes, for super-high level problems ten minutes. The pair that has the most points after five problems will be the winner.

Referee: 24th Honinbo Shuho (Ishida Yoshio)
Problem composers: Kono Rin 9-dan, Rin Kanketsu (Lin Han Chieh) 8-dan, Oba Junya 7-dan, Shibano Toramaru 7-dan, and Ohashi Hirofumi 6-dan

Prizes
Winner: Prize 500,000 yen
Runner-up: Prize 200,000 yen
3rd place: Prize 100,000 yen
Besides these prizes, there are the "PANDA SENSEI" Prizes for pairs that solve problems faster than "PANDA SENSEI".
What is "PANDA SENSEI"?
・ Official name: The King of Tsumego: "PANDA SENSEI"
Born in Japan, it is currently the world's strongest Tsumego AI.
・ With a long developmental history of improvement and modification over 30 years, it was unveiled by Pandanet more than ten years before AlphaGo appeared and commenced service in 2003.
・ It operates nimbly on just one computer or on a smart phone and is used by members throughout the world as one of the basic services provided by Pandanet.
・ It's also used by professional players and has become an indispensable tool in the composition and analysis of life-and-death problems (tsumego).
・ Patents acquired
Japan) Patent No. 4607230, others
Korea) Patent No. 10-1589788、Patent No. 10-1830909
US and China) Patents pending

Supported by PANDANET Inc.
Pair Go World Championship 2018 Official Site is here